Mar 03, 2022
Architecture, painting, & teaching students: Take a peek into Sandra's career discovery at OCUS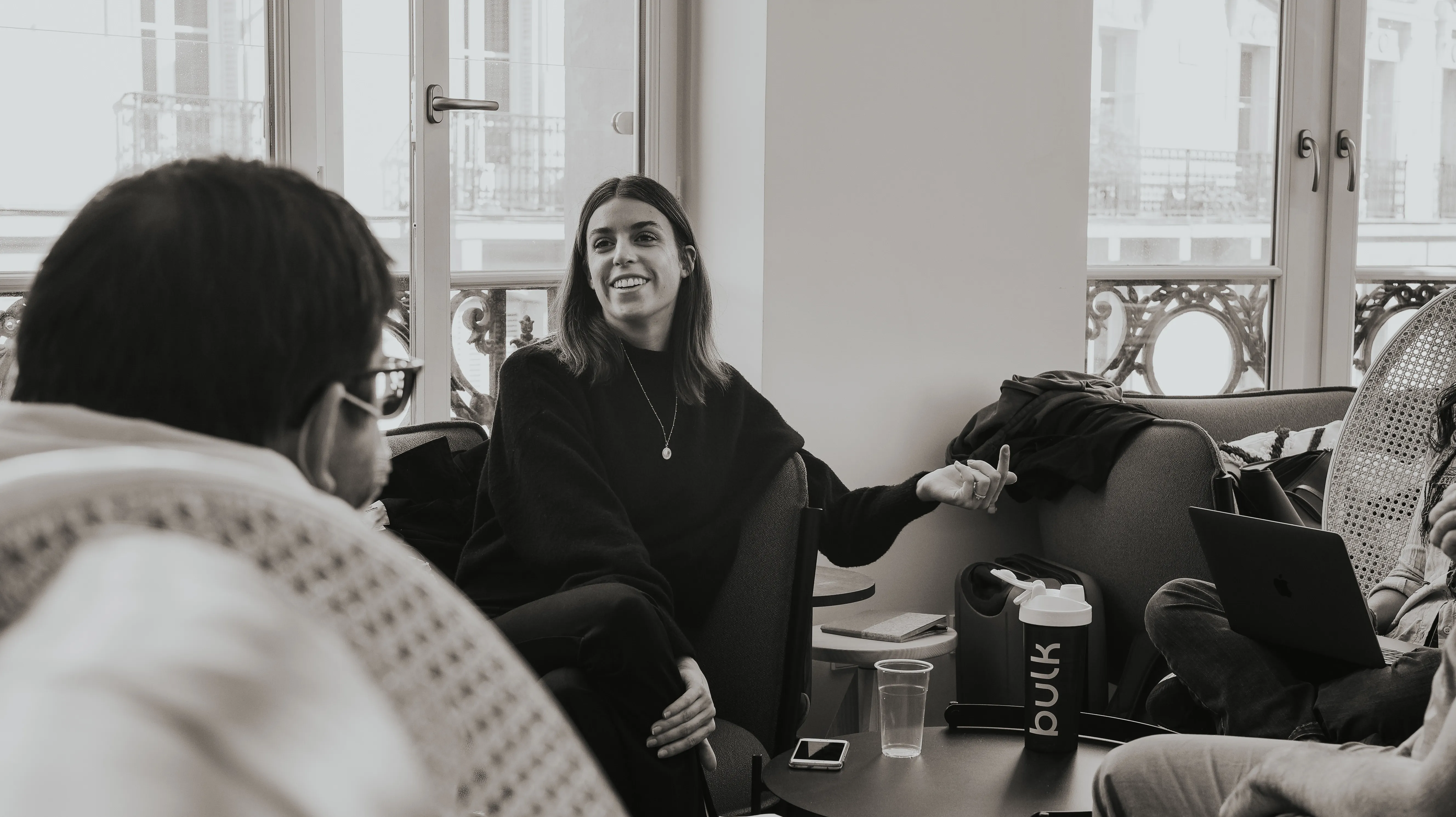 What do you do at OCUS?
I am a product manager, which essentially means I identify features to add to the product based on data and research insights. This is not a one-woman job. Our team is all about collaboration, and I work VERY closely with our engineering team to narrow down problems, shape ideas, and support the development process.
Together we constantly create and optimize processes to streamline product development, then when it's all put together in a nice and shiny package we define and analyze metrics that inform the success of the product.
What did you study to be a product manager?
The short answer is I didn't.
At the time, there wasn't really a path to becoming a product manager at school. It's really something I learned by doing in the companies that I worked for. To be fair, I guess I also use, to some extent, what I learned at Centrale Lyon and EMLyon. There I learned, in a broad sense, the understanding of code, data analysis, as well as business sense.
Where I really learned product management was in my previous company working as an agile coach, where I was lucky to get the opportunity to learn from great mentors. Here we helped companies launch MVPs (minimum viable product) or reach PMF (product-market fit) and my position was to provide the best environment/working framework for the squad using scrum, lean, etc. & design thinking methodologies. This allowed us to create a product fast, but mainly and more importantly, to create business and user value!
Throughout my whole experience, this motto rang true: 'learn by doing'
What's integral to the work of a product manager?
If I have to choose one, I'd say 'empathy'.
Product managers MUST be empathic! We need to care about our users, feel their pain points, and their aspirations in order for us to build the best product for them!
Being able to analyze quantitative data is key, but our users are not numbers.
Likewise, empathy is also key in terms of the teamwork inside the squad, and the organization as a whole. This helps me to get close to the developers and create a space of trust and benevolence. And when we have that, nothing can stop us from working well as a team, to continuously improve!
It prevents us from falling into the classic 'order/execution' relationship.
Why did you join OCUS and why did you stay?
I saw a product management position open and I was really motivated to get my first product management experience where I could have an impact & responsibilities. Plus, it was great to join the team and be able to use my coach agile experience to help to structure the job and learn as I continued to grow into this position.
I stayed because of (and thanks to) the Team. Wouldn't be here without them!
Because my job changed so much over the months, from our V2 reformat, to optimizing the platform, to building a new product from scratch, to impacting teams and shaping up methods, it allowed me to experience different parts of what product management can be.
I love action, movement, and spirit for continuous improvement and I get ALL of that at OCUS!
What did you want to become while growing up?
Primarily, I was focused on doing something creative. When I was really young, I wanted to become a pastry chef. But was quickly reminded of the early morning work hours which made me change my mind!
Later on, I wanted to be an architect. I actually did some studies for that at ENSAL, but decided it wasn't for me as I realized it didn't really match my expectations! I perceived the job as being super creative where I would be able to simply design a building. I really loved the idea of being able to make your mark on a particular space and create something permanent. I discovered quite quickly, however, that there were a lot of constraints.
When you want to build something, sometimes seemingly insignificant (and not super exciting) things like doorways or toilets require huge specifications. They're important but not super interesting to me.
Design has always been very personal to me, but this type of design did not necessarily speak to the direction I saw my life going. At this point also I had a conversation with the professor and realized there was a big gap in the direction of what my life could be if I was an architect, and actually what I wanted it to look like.
Although my role as a product manager is quite different from architecture there is definitely an axis of creativity that I love and feel translates quite interestingly into product design. I think about this in the sense that when you build a product there is a very creative process. What I also think is super true for me is that, similar to what I wanted from architecture I get from product design.
When I create something from scratch or improve something that's user-centric or something that's going to be used by others...I have that feeling that I'm leaving my mark. At the end of the day, that's something that I created and can be proud of!
Would you do anything differently in your career?
I think I would have to say: Be bolder.
Previously, I tended not to apply to some jobs because of fear of failing and wondering if I am good enough to do the job. Full of those questions like:
Am I too young?
Do I have enough experience in this field?
Do I have the authority to make that decision?
But at the end of the day, my experience proved to me that it is not that hard to learn what you don't know, and by pushing yourself out of your comfort zone, you can grow the most.
Don't censor yourself, let others do that, and prove them wrong ;)
What is something that you always bring to your work?
I try to always give my 100% in whatever I do! For me, being passionate about what I do even in the smallest tasks makes a huge difference!
What is your passion outside of work?
I was always looking for ways to express myself and create things and feel singular or like an individual.
I've always felt a connection to create things that reflect who I am.
The feeling of freedom I get from it is something that I love! Plus I find it incredibly rewarding to finish something. Growing up my brother and I always did the same activities. He was into cycling so I went into cycling. My interest in painting may have been my unconscious response conscious to feel singular or independent. I started in a class painting with retirees where I was probably the only person under 50. Despite the age gap, I really loved it! It was my thing and gave me a feeling of worth independent of anyone else and helped shape my confidence.
In painting, you have to understand your guidelines, perspective, color theory...things like that. The same can be said in product management. There are rules formulated within a given framework but you can express yourself and your creativity within your product canvas.
You were teaching in ESSEC business school. What is important about people teaching other people? What is your approach to teaching?
Firstly, I like to apply the same principle as in my Product Manager day to day life - considering students as users of a product and structuring my lectures around creating digital products. The main keys for me are:
Making sure to be student or user-centric! In other words, what is their need? What are their expectations for the class? What are the stakes?
Connection! It's so important to connect with your students or users.
Monitoring the feedback loop! I made sure I had some key KPIs in place to measure the course's success! At the end of each semester, the student feedback was taken into account and improved upon the following semester
Secondly, in this day and age, it's also super important to keep students' attention. That's why I employed a no device policy aka laptops closed during rhythm changes. Not the most popular decision with the students ;) but this paves the way and gives space for interaction. It's my opinion, that theory is good BUT practice is better! So this type of structure leaves space for group work and allows students to apply principles through exercises!
And finally, perhaps the most important rule in the book...have fun and share the passion!
Can you name 5 books future product managers have to read to be successful and why you choose them?
The Five Dysfunctions of a Team by Patrick Lencioni
The first thing that struck me about this book is how simple it is to read and the usage of fiction to convey the theoretical principles - I think it's very clever. 10/10 would recommend.
Inspired: How to Create Tech Products Customers Love by Marty Cagan
This book does a great job summing up the key principle of product delivery and discovery! One of the key takeaways I try to apply in my work within my teams is summed up in this quote:
"The little secret in product is that engineers are typically the best single source of innovation; yet, they are not even invited to the party in this process."
Value Proposition Design: How to Create Products and Services Customers Want by Alexander Osterwalder, Yves Pigneur, Gregory Bernarda, & Alan Smith
Here, what I appreciate is the framework and the materials provided in the book! They are super easy to test and apply. To me, it summarizes all the key points from lean startup design thinking that are "must-have" methodologies to create new products/services! For example, if you have a rocky delivery phase you can go in the wrong direction and build a product customers/users don't want - that's pretty pointless.
Lean Analytics by Alistair Croll & Benjamin Yoskovitz
This book is all about data-driven decision-making. Being able to define the right metrics and measure your success is one of the most (if not the most) important parts of the product feedback loop.
I particularly loved how the six business models (e-commerce, SaaS, mobile apps, media site, user-generated content, and marketplace) are peeled back in this book. I also found it very insightful how the authors use specific examples to help readers understand what type of metric makes sense for what business and at which stage.
Additionally, a key concept that really stuck with me is the element of "Find the One Metric That Matters". This made a HUGE impact on how I work within my squad.
La 25ème Heure: Les Secrets de Productivité de 300 Startuppers Qui Cartonnent by Guillaume Declair, Bao Dinh, & Jérôme Dumont
As a product manager, it's very easy to feel overwhelmed with work. This book helped me to better organize the way I work to avoid falling into that trap. There are very concrete tips in it like the power of saying "no" and the inbox zero rule which are lifesavers in my day-to-day.